2018.01.09 Tue
1/26〜27 HAKUBA Winter Festival 2018」@HAKUBA UFO STADIUM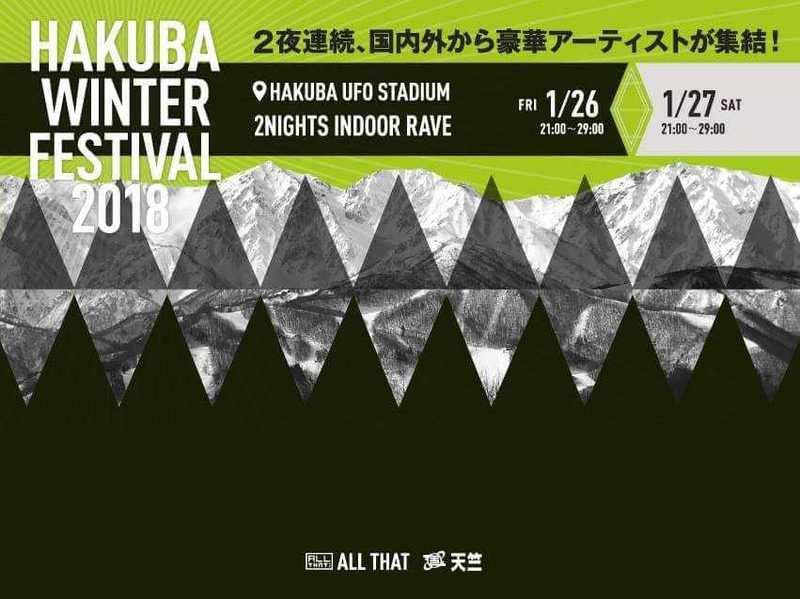 2018/1/26-27は「HAKUBA Winter Festival 2018」@HAKUBA UFO STADIUM(長野県白馬村)ですっっっ!
 2夜連続で、国内外から豪華アーティスト達が出演っ!
 しかも、参加費は2日間通しで2,000円っ!
 (再入場OK!)
 400人を超える県内最大級のイベントに成長いたしましたっ!!!
 冬の白馬のClubシーンは、平日のイベントでも500人規模だったり、その8割が外国人だったりで、海外のイベントのような感覚を体験できます♪
 昼間は、スノーボードやスキーを楽しむのもありですね(^^)d
 是非、遊びに来てくださいっ(^^)/
 追加アーティスト等も、どんどんUPしていきますのでチェックしてくださいね♪
「HAKUBA Winter Festival 2018」@HAKUBA UFO STADIUM will be held on 2018/1/26-27 in Hakuba, Nagano!
The great artists will gather from home and abroad for 2 nights in a row!
Admission fee is \2,000 for 2 days! (Re-entry is permitted)
It is one of the biggest event in Nagano with over 400 visiters!
Don't miss out!
ALL THAT・天竺 presents
「HAKUBA Winter Festival 2018」
-2Nights Indoor RAVE-
2018.1.26(FRI) 21:00~29:00
2018.1.27(SAT) 21:00~29:00
HAKUBA UFO STADIUM@長野県北安曇郡白馬村北城4721番地
http://partynight.jp.net/
ENTRANCE:¥2,000(2Nights)
【Techno Floor】
 (A to Z)
  Bahstid(Butter Bar Hakuba)
  CD HATA(Dachambo) & Masaru(Kannon Sound)
  DRUNKEN KONG(Tronic/Terminal M)
  Jellyfish
  scarecrow(Bass Field)
  SHINTARO(THEBLACKDOOR)
  Ume(梅民)
  YU
【Trance Floor】
 (A to Z)
  CYLON(Grasshopper Records)
  JIKOOHA(Matsuri Digital/Panorama Rec./Shamanarchy)
 (A to Z)
  @raki(JzTrance)
  ★CHALA(MUSH ROOM/西遊記)
  CJ
  HATTA(GRASSHOPPER RECORDS)
  JUSTIN CHAOS(Zero1 Music/Argentina)
  L7(西遊記)
  鮭ハラミ(AROME)
  TakuyaBlant(sons of ahito)
【Guest Vj】
 TOMOKO da4(西遊記)
 T2(S.F.E)
【Guest Decoration】
 Masaki Saito
【Guest PA】
 TETSU
【Resident Dj & Vj】
 Yajima(ALL THAT)
 Kazuyoshi Shimamura(ALL THAT)
 396(ALL THAT/モールナイトニッポン)
 CAKRA(天竺)
 tko-japan(KING-SIZE/天竺)
 30(西遊記/天竺)
 KAZUNARI(ELECTRO ARMOR/K-HOLE/天竺)
 梅民/Caffe'Val Bagni
  and more・・・
☆法律等で禁止されている物・脱法ドラッグの持ち込み、危険行為、飲酒運転を固く禁止いたします。
☆駐車場・会場での荷物の盗難・紛失につきまして一切の責任を負いかねますので管理には十分お気をつけください。
 TEL:090-4393-2333
 Mail:cakra.tenjiku@docomo.ne.jp
【HAKUBA Winter Festival 2018】Facebookイベント
 https://www.facebook.com/events/179665632583899/
【Allthatparty】Facebookページ
 https://www.facebook.com/pages/Allthatparty/182226685249316
【天竺】Facebookページ
 https://www.facebook.com/tenjiku.nagano