2019.09.08 Sun
9/13 Vision Tokyoで、Luigi Madonna、Takkyu Ishinoと共演決定!!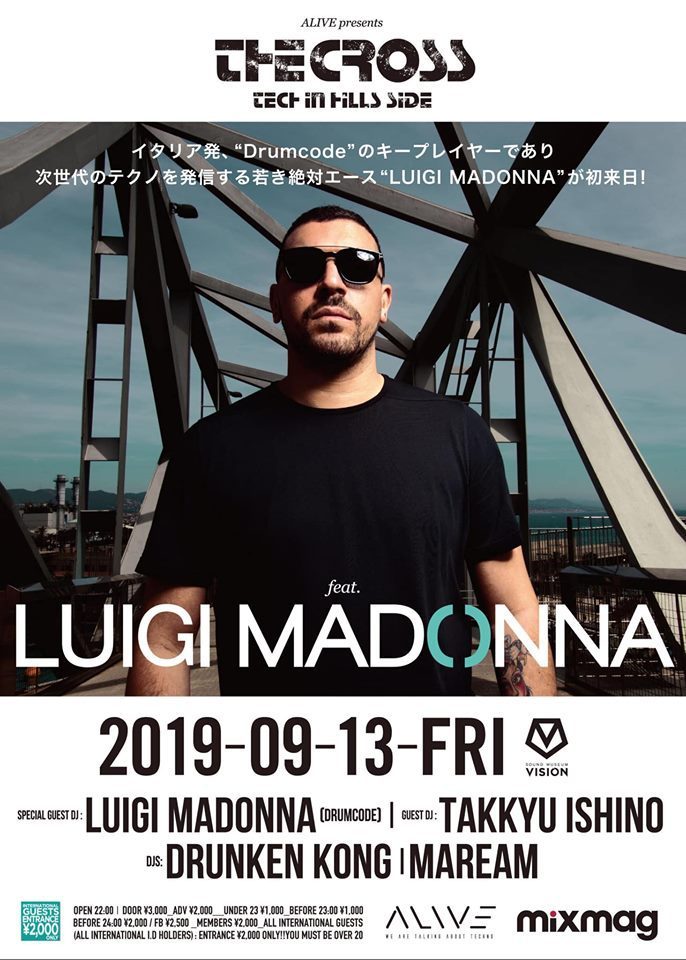 イタリア発、"Drumcode"のキープレイヤーであり次世代のテクノを発信する若き絶対エース"LUIGI MADONNA"が初来日!
The First Appearance of LUIGI MADONNA (Drumcode), The Leader of Next Generation of Techno from Italy.
イタリアのナポリで生まれ育ち、わずか14歳から、90年代半ばよりハウスDJの巨匠たちである"Louis Vega"、"Frankie Knuckes"、"David Morales"たちのプレイ影響を受け、彼らと共にプレイする様になる。そして更にモダンに進化した独自のサウンドを確立する。後、"Richie Hawitin"、"Jeff Mills"、"Chris Liebing"や"Marco Carola"達のミニマル・テクノサウンドにのめり込み、ハウスで培ったその独自のDJスタイルに更に磨きをかけ深みが増し、そしてパワフルなものとなり、"Dave Clarke"、"Adam Beyer"、"Marco Bailey"らのラジオショーに出演する事でトップDJ達の仲間入りを果たす事となる。現在、世界中のトップクラブや"AWAKENINGS"、"Drumcode Fes"、"Resistance"などといった主要テクノフェスでは欠かせない存在であるのは言うまでもない。また彼の膨大なリリース作品は'08年の"Structure Records"からの鮮烈なデビューからその数はもはや数え切れず、レーベルは当然ながら"Richie Hawtin"の"Plus8"や、"Adam Beyer"の"Drumcode"までに及ぶ。中でもトップDJ達の間でヒットとなった"Summer Sensation"、"Unconditional Beauty"や"Le Ly Land"はクラブラバー達はフロアで耳にした事はあるのではないだろうか。
"LUIGI MADONNA"は今や"Adam Beyer"主催、"Drumcode"の完全なるキープレイヤーでありEUテクノ激戦地のド中心で次世代のテクノを発信する絶対エースと言えるだろう。
さあ、終わらない夏は終わる事なく、まだまだテクノ最前線はこれから、そのまま年末まで踊りきるしかないであろう。引き続き今後の発表にご期待頂きたい!
"THE CROSS" is modern techno party at VISION. They will feature Shlømo, the French artist plays modern hard techno, industrial sound. His real name is Shaun Baron-Cavais. He is DJ and producer from underground techno scene in Paris. He released his debut album "Marcurial Skin" as Shlømo in 2018. It ranked 6th in DJ Mag best albums, 3rd in Tsugi top albums. Also, his label Taapion was featured in Groove Mag. Now, he is getting recognized in the global scene. He performs at top clubs and festivals such as Berghain in Berlin, Bassiani in Tbilisi, Gamma in Russia, Concrete in Paris etc. He plays so many gigs. He is popular top DJ and stays real with the underground. From Japan, we will feature techno innovators such as KEN ISHII and DJ SODEYAMA, and also Do Shock Booze, resident DJ of "THE CROSS."
09.13.Fri.2019
@SOUND MUSEUM VISION
ALIVE presents THE CROSS feat. LUIGI MADONNA
OPEN 22:00 / GENRE: Techno
《GAIA》
SPECIAL GUEST DJ: Luigi Madonna (Drumcode)
GUEST DJ: Takkyu Ishino / 石野卓球
DJs: Drunken Kong, Maream
《Deep》
Deep space by CARAVAN
DJs : U:ichi(Solar Distance / HOUSTRIKE / WEAVES)
RINN(Borderland / CARAVAN)
KOTTAN (CARAVAN)
SAYA SATURN (Banter)
Keitaroh Iguchi# (galacsick)
VJ : DOT TV
《WHITE》
DJs : avion (INTENTION)
Boogie Piggie
Brenna Ryan
edge (BLACK BOX)
Gohlem
kRs
rents
3LCH.
《D-lounge》
DJs : BOBBY
BRYAN
KEN1
Kanzawa Chika
wymn
ReFuCafe
Li Na Res
Hackmarkt
SHUNSUKE ISHIZU
NON
MONN
OPEN 22:00
ALL INTERNATIONAL GUESTS (ALL INTERNATIONAL I.D HOLDERS) : ENTRANCE ¥2,000 ONLY!!
1000YEN – Under23
1000YEN – VISION to CONTACT (both way)
2000YEN – Before 24:00
2000YEN – ADV TICKET
2500YEN – FB DISCOUNT
3000YEN – DOOR