2019.05.20 Mon
DRUNKEN KONG presents INTENTIONが渋谷Wombで5/25に開催決定!!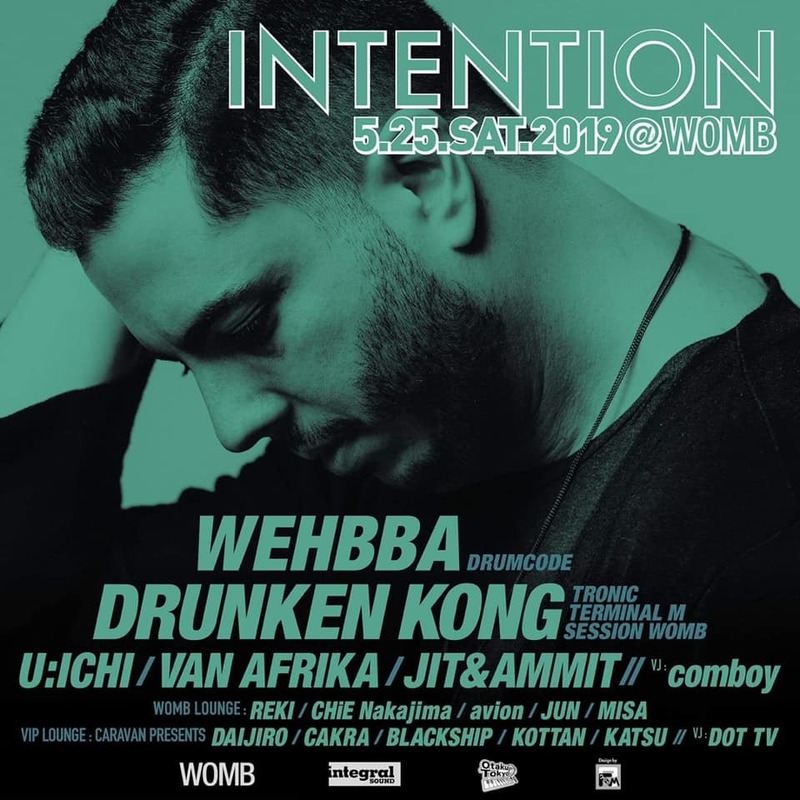 English Follows
DRUNKEN KONG主催の不定期開催『INTENTION』が約1年半振りに開催決定!!今回のメインアクトにはあのDRUMCODEのアーティスト、WEHBBAが出演!!
WEHBBAは2017年までは、Kompakt、Soma、Bedrock、Second State、Systematic、2020Vision、TronicなどのTOPレーベルから多数リリースし世界的な活躍をみせていたが、更に昨年には世界No.1と言われるレーベル『DRUMCODE』から初EPをリリースし、TOPアーティストとして名を広めている。
WEHBBAの楽曲は斬新かつ新しく、今年の作品もBeatport TOP100位に常に入り、多くのファンを魅了している。
そして、INTENTIONレギュラーメンバーの南アフリカ人VAN AFRIKAも、去年オーストラリアに拠点を移すも、今回のINTENTION出演のために来日!!
現在アーティストとして着々と名を上げているU:ICHIや、JIT&AMMITもメインフロアーに登場。
CARAVAN presents VIP LOUNGEには、DIGITAL BLOCKのDAIJIROが初出演!更に長野のパーティーオーガナイザー兼DJのCAKRAも初登場!そして、イビザでも活動しているSUNNYからはBLACKSHIP、CARAVAN crewのKOTTANとKATSUも参戦します!
WOMB LOUNGEには、オーガナイザー兼DJとして名を広めるREKIを筆頭に、INTENTIONレギュラーメンバーのCHIE NAKAJIMA、AVION、そして女性DJとして人気活躍中のJUNとMISAもフロアーを盛り上げます!!
今年のINTEINTIONも、どのフロアーも見逃せないDJ陣ばかり!
アッパーなテクノサウンドをこの日は体感して欲しい。
DRUNKEN KONG resident party "INTENTION" is back at WOMB on May 25, having Wehbba from Brazil as our special guest. With massive releases on the world renowned label "DRUMCODE" and constantly influencing the techno scene. Wehbba has also had a very successful career, releasing on most influential labels around the planet such as Kompakt、Soma、Bedrock、Second State、Systematic、2020Vision、Tronic. We are very excited to see what he has ready for the 25th!
We are also happy to have our resident DJ Van Afrika, who is now based in Australia, specially coming back to Tokyo for this night. Recently launching his label Rebellie, we are sure to get some fresh nice grooves.
At the main floor, we also have Japanese uprising talent U:ICHI and resident JIT&AMMIT warming things up to get the night started nicely.
We welcome the CARAVAN crew for organizing the VIP Lounge. DIGITAL BLOCK`s DAIJIRO will be joining us at the VIP lounge along with DJ and Organizer of party "Tenjiku" from Nagano. We are also happy to welcome BLACKSHIP, KOTTAN and KATSU this time. This floor you will be sure to get alot of soulful techno!!
At the WOMB Lounge, we are excited to have long careered organizer and DJ, REKI. REKI will be sure to get you hypnotized with his sound. Along with him, we are alway happy to have our trusted DJs CHIE NAKAJIMA, AVION, JUN and MISA!! You can expect some pounding full on techno at this floor.
All floors will be have various styles of Techno with different concepts. This is going to be one of kind night so be sure not to miss this!! TECHNO NIGHT!!
----------------------------------------------------------
INTENTION at WOMB
2019/5/25
TECHNO
http://www.womb.co.jp/event/2019/05/25/intention-7/
OPEN: 22:00 CLOSE: 4:30
DOOR: 3500yen
【Main Floor】
GUEST:
WEHBBA
(DRUMCODE)
DRUNKEN KONG (TRONIC/TERMINAL M/SESSION WOMB)
U:ICHI ( Solar Distance/ Houstrike/ WEAVES)
VAN AFRIKA (Rebellie)
JIT&AMMIT (INTENTION /sympathy)
VJ comboy
【Womb Lounge】
REKI(ELEPHANT)
CHiE Nakajima (INTENTION)
avion (INTENTION)
JUN(WEAVES)
MISA
VJ KAORI (DIRTY30)
【VIP Lounge】CARAVAN presents
DJ DAIJIRO (DIGITALBLOCK)
CAKRA(天竺)
BLACKSHIP(SUNNY)
KOTTAN (CARAVAN)
KATSU (CARAVAN / IMPACT MUSIC)
VJ DOT TV